This new-hire onboarding checklist helps ensure new employees assimilate quickly and feel engaged.
he first day at a new job can be a daunting experience for a new employee, as well as the co-workers responsible for integrating the newcomer. Onboarding new employees is critical for establishing engagement, retention, and productivity, so establishing a defined process for guiding all team members through this phase of the employee journey is paramount. It's a journey that can take months to complete, but with a strategic onboarding checklist that takes advantage of automation, assimilating new hires can be a positive experience for new employees and human resources managers alike.
What is employee onboarding?

Employee onboarding is the process that ensures a new hire acquires the information, knowledge, tools, and resources they need to integrate successfully into an organization. Onboarding takes place over the course of a few months to a year, in a planned sequence of onboarding stages.
New employees need specific information about their day-to-day role, including performance expectations and the breadth of resources at their disposal. They also need to understand the culture of the organization, the leadership structure, and the relationships they should develop within the company.
Many companies confuse employee orientation with onboarding, but they are not the same. Employee orientation generally covers administrative processes and employee programs, which only makes up a part of the total onboarding experience.
In most cases, the onboarding process is managed with employee onboarding software. This allows teams to structure the workflows and steps in the onboarding process, track progress, and automate elements of the process for a better employee experience.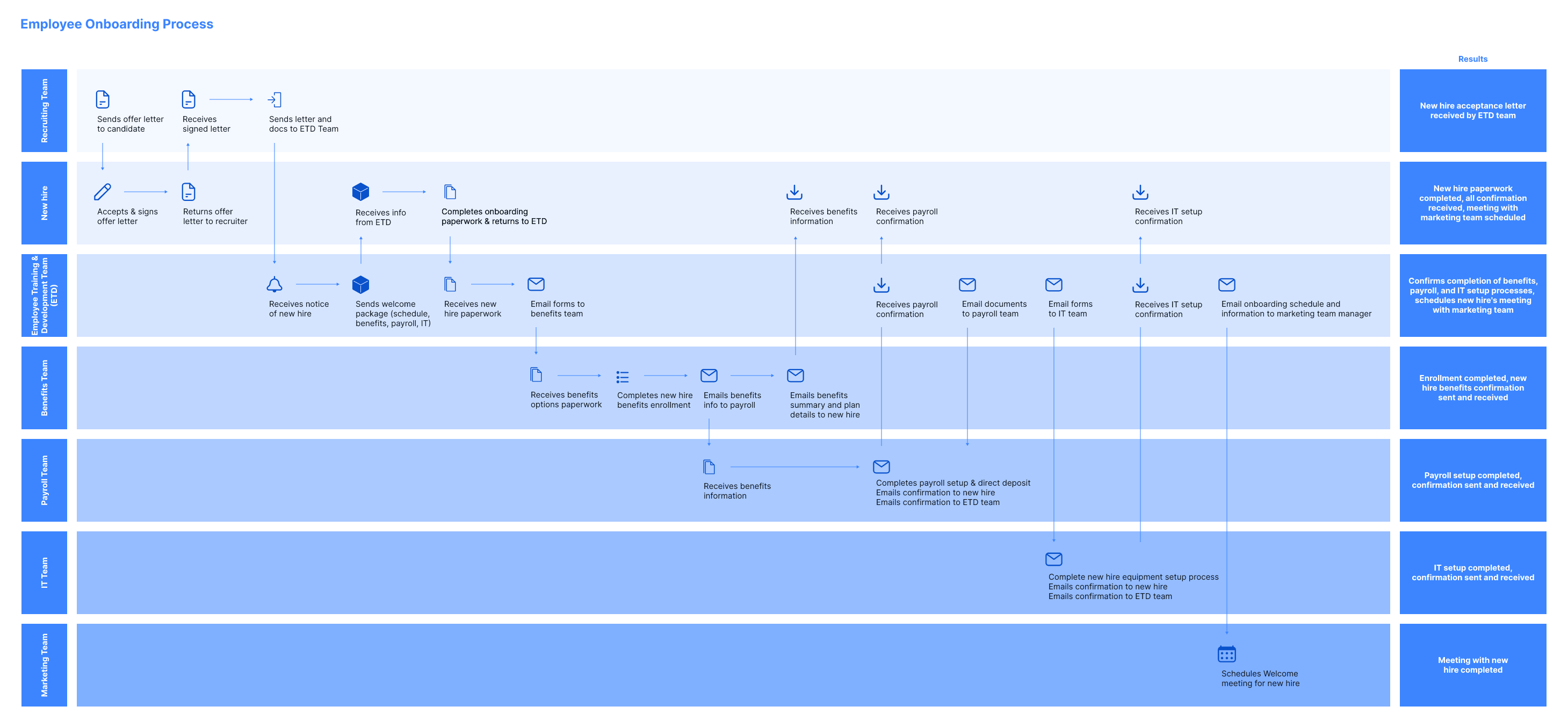 Why is onboarding critical for success?

An effective employee onboarding program benefits both the company and the employee:
For the company: The faster a new employee becomes proficient at their job, the better your business is going to perform. Successful onboarding supports increased employee engagement and can improve employee retention by 82%. Investing in new employees and speedy integration also drives higher productivity, leading to stronger business results and long-term value.
For employees: With a comprehensive onboarding program, employees are set up for success quickly and may even find themselves in line for promotions and new opportunities faster than expected.
At the same time, a poor onboarding experience can have a lasting negative impact. For example, if a new employee doesn't fully understand expectations and responsibilities, they might not complete assignments as required. This could easily result in a loss of confidence among co-workers and managers and limit career advancement opportunities for years to come.
How to design an employee onboarding process and checklist?

Employee onboarding isn't a one-time event; it's an ongoing process. While an employee's first day is important, an effective onboarding program should start right after a job offer is accepted and may continue for over a year, depending on the complexity of the position.
Designing an employee onboarding program is about more than implementing administrative policies. It should immerse individuals into the company culture. Some strategic questions to consider while designing the program include:
1 - What are the overall objectives?
2 - Which stakeholders should be involved?
3 - What information and materials do employees need?
4  - How long should the program last?
5 - What are the next steps after the program ends?
6 - Which parts of the onboarding process can be automated?
These may include soliciting employee feedback or identifying further improvements to the onboarding process.  A well-designed onboarding program will align with the organization's broader talent management strategy and support its long-term goals and objectives.
New employee onboarding checklist

Preparing for an employee's first day on the job is just as important as the day itself. Start to build buy-in among other team members early on. Some associates may feel threatened by a new team member, so be sure to clarify roles and responsibilities and present the hiring as an exciting opportunity for the whole team. Creating an inviting environment for the new employee goes a long way.
The lead-up to the first day is also crucial for recruits. You can use this time to familiarize new hires with the organization and build anticipation.
Onboarding: day one

The first day of a new job sets the stage for all that follows. A warm welcome paired with a well-coordinated first day can greatly reduce your new hire's anxiety. Providing a great onboarding experience will set up the new employee for success and create a positive, lasting first impression.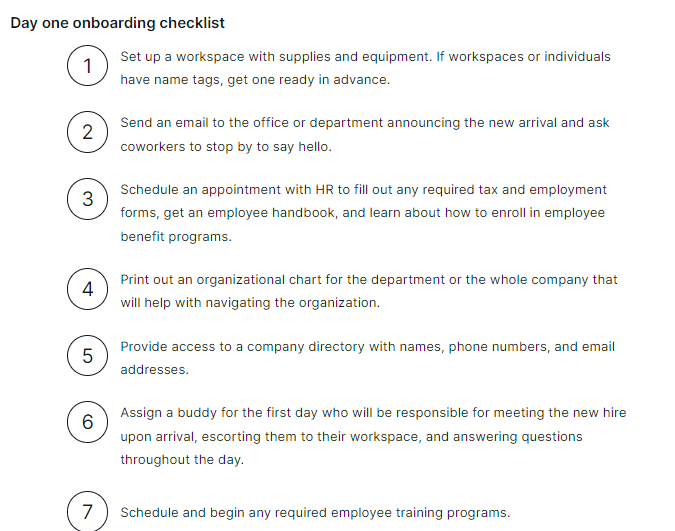 First 30 days onboarding checklist

Many organizations make the mistake of ending the onboarding process after a day or two, which is not sufficient to engage new employees and set them up for long-term success. Nearly 33% of new hires look for a new job within their first six months on the job. Among millennials, that percentage is even higher, and they begin to search for a new job even earlier.
The onboarding process checklist should focus on anchoring learning through on-the-job experience and training for several months. Employees will start learning new skills and processes right away, but it takes at least a few months of work to become proficient.
Extending the onboarding program beyond the first day will ensure newcomers are completing their training, asking the right questions, and becoming independent, productive employees. Extending onboarding will also help build social connections within the company.
First month milestone

✔ Schedule meet-and-greets with managers and colleagues that the new hire will interact with regularly.
✔ Continue any required employee training programs.
✔ Ask the new employee for feedback on their experience; are they getting all of the support and information they need?
✔ Schedule regular check-ins with the manager to follow up on training and new assignments.
✔ Introduce the new employee to the performance management program and complete any initial paperwork or tasks.
✔ Introduce the company mentoring program, if available, and assign a mentor.
 ✔ Schedule a 1-month celebration: take the new employee out for lunch or bring in breakfast for the team.
Year one milestone

While there needs to be an end date to the onboarding process, it's important to continue the onboarding process throughout the first year of employment. This demonstrates a commitment from both the organization and the manager. Research shows that onboarding programs that last at least one year increase new hire retention rates by as much as 25% compared to shorter onboarding programs.
At the one-year mark, the focus should shift from training and onboarding to continuous development and career management.
Year one onboarding checklist
✔ Provide training to build confidence and fill any gaps in skills.
✔ Perform informal manager check-ins to assess performance and get feedback.
✔ Conduct a formal one-year performance review and set goals and objectives for year 2.
✔ Send a congratulatory one-year email from a senior leader.
Benefits of automated onboarding

Establishing a comprehensive onboarding program takes time and resources, but it's well worth the effort to develop engaged employees and reduce turnover. Consider using a work management platform to automate and standardize the onboarding process. These tools make implementing a robust and responsive onboarding program hassle-free. HR and managers can use the platform to streamline and optimize the onboarding process in a variety of ways:
1 - Identify all the onboarding topics and activities to be covered and track them to ensure completion.
2 - Incorporate ongoing feedback and evaluation from participants.
3 - Eliminate miscommunication and keep all stakeholders updated through automatic emails and notifications.
4 - Offer a consistent experience to new employees and engage them in all phases of the onboarding process.
5 - What are the overall objectives?
6 - Which stakeholders should be involved?
7 - Identify all the onboarding topics and activities to be covered and track them to ensure completion.
8 - Incorporate ongoing feedback and evaluation from participants.
9 - Eliminate miscommunication and keep all stakeholders updated through automatic emails and notifications.
10 - Offer a consistent experience to new employees and engage them in all phases of the onboarding process.
11 - The customization features offered by work management platforms make it easy to design an onboarding program that is unique and supports organizational goals and objectives.

Build better onboarding experiences
Successful employee onboarding is essential to maintaining an engaged and productive workforce. Using a work management platform is a great way to ensure crucial information, tasks, and activities aren't overlooked. Automation will streamline the process and ensure consistency across the organization.
Pipefy helps anyone take control of their daily work, in areas such as marketing, human resources, customer service, and finance. Try Pipefy for free to see how it can enhance the employee onboarding process and make your life easier.
See how HR automation unifies recruiting and onboarding workflows for a seamless user experience.