Procurement managers know that a procure-to-pay process is a critical part of managing an organization's spending. It is sometimes a challenging process because of the complex workflows and the involvement of myriad parties across departments.
However, methodical procurement process can automate these complex workflows to ensure the procurement process is efficient, accurate, and affordable. 
What is the procure-to-pay process?
The definition of the procure-to-pay process is simple. P2P is a subdivision of the procurement process. It refers to software or solutions that enable the integration of the purchasing department with the accounts payable department.
Procure-to-pay is related to, but different from, the larger process of procurement, which includes sourcing goods and services, negotiating terms, ordering, ensuring accurate delivery and quality, and managing payments. 
Procure-to-pay does not include the sourcing of the goods and services; nor does it include production planning or forecasting. Procure-to-pay includes the steps that can be automated with software.
7 steps in the procure-to-pay process
Every business is unique, but there are several procure-to-pay steps used frequently. Some of the most common you can see below on the procure-to-pay business process map: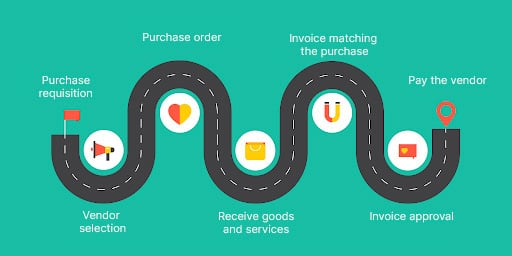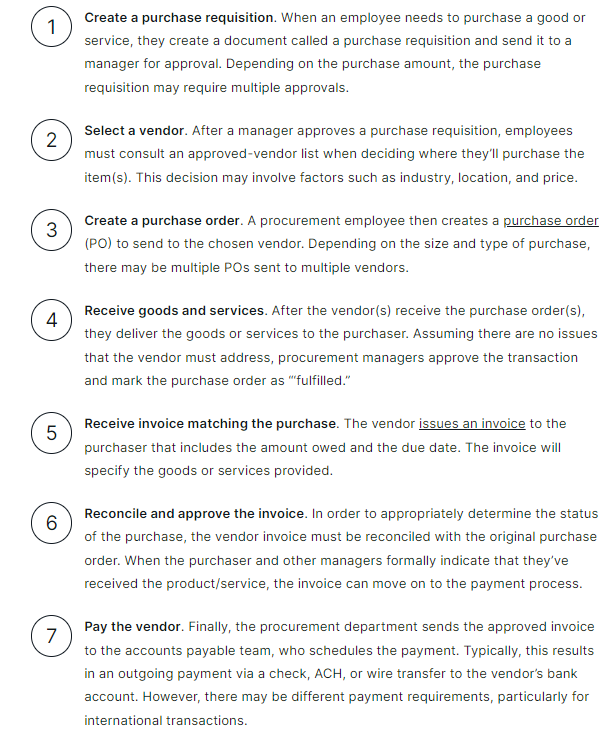 Benefits of procure-to-pay process

Given the numerous parties and steps involved in the procurement process, there is significant room for automation to improve workflow efficiencies, lower costs, and build better relationships with suppliers. Procure-to-pay solutions can:
1 - Streamline procurement. Approvals, requisitions, purchase orders, notifications, and payments are processes that follow basic and consistent rules. Automating this can reduce friction and improve efficiency to make the procurement process much leaner and minimize the propensity for error.

2 - Reduce costs. In addition to making the procurement process more consistent, automation can reduce the costs associated with maintaining them. The more steps you can automate, the more man-hours can be reduced or assigned to more productive tasks.

3 - Get total visibility into purchasing. By tracking each step of the purchasing and approval processes, and centralizing this data, managers have a complete picture of historical and planned purchases and expenditures.

4 - Strengthen relationship with vendors. By speeding up approval and payment processes, vendors receive purchase orders quickly and get paid on time. Everyone benefits from predictable, smooth processes. 

4 - Negotiate with authority. Negotiations are about business leverage and access to information. Automation gives a business the flexibility to choose from a larger pool of vendors, because managing those vendors is less of a burden.

Best practice: automate the procure-to-pay process
Using software to automate the procure-to-pay process will ensure that the steps are performed consistently, efficiently, and affordably. It also is a scalable solution that can enable the procurement department to manage large operations without having to increase staff to handle all the moving parts.

In traditional procurement workflows, the request and approvals steps usually are the most time-consuming and error-prone steps. Workflow automation software can help standardize request creation, define requirements that must be completed to ensure consistency and quality, quickly send and track active approvals, and designate rules about who needs to approve certain types of purchases.
Further, business procurement management software helps to centralize all of the information about ongoing and historical procurement processes so that no one has to waste time scrounging through documents or emails to understand the state of a project. This also helps to ensure that information is not lost and steps are not forgotten.
Use Pipefy to get control and visibility over your procure-to-pay process
Procure-to-pay processes can help to improve the efficiency and quality of the procurement process in a scalable manner. The Pipefy platform offers BPM features to help your finance team optimize its procure-to-pay processes and achieve other high-level institutional goals.
Pipefy improves workflows by adding automation that can handle repetitive, time-consuming tasks, and it helps teams communicate and complete them accurately. When you need to take control of your finance department and procure-to-pay process with the big picture in mind, Pipefy is the perfect partner. Reach out today to learn more.
Try Pipefy for free today or request a demo to supercharge your finance and procurement operations.