We're proud to announce Pipefy has improved how to work and collaborate through email.
We know many processes start with an email, making inboxes central to teams' information and interactions.
 
Now, when logging into Pipefy, you will see a new tab on the navigation bar called "Emails." There, you will be able to set up shared inboxes like [email protected], [email protected], [email protected], and centralize all communication shared between team members, suppliers, and anyone you need to interact with.
This new view ensures:
More productivity through automation and integration capabilities

Better collaboration with team members, customers and vendors

Less context switching by centralizing information in a single place

More visibility so no emails fall through the cracks
Send and read emails within Pipefy, see which cards emails are connected to, assign team members to take care of them, and more.
Set up your team's inbox on Pipefy by clicking on "Emails" on the pipe header.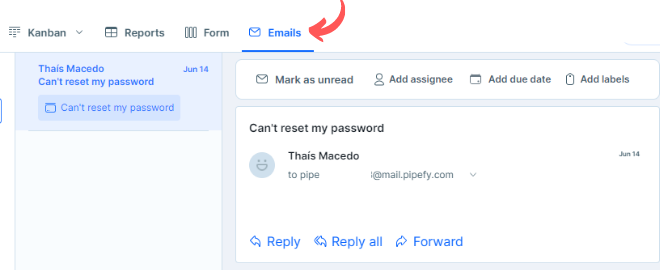 Learn more about Shared Inbox in the help article.