In the importer feature, there is an error that always happens when i'm trying to import phone numbers. 
This is an example of phone numbers I have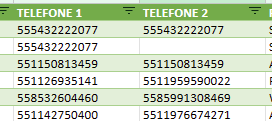 This is the importer error log with what it made of the info I had.
This error is making me use the text field for phone numbers, and I don't want that.

Does anybody knows what might be happening??