Learn the what separates no-code software from low-code software, including use cases, benefits, and challenges.
Since the COVID-19 crisis began, the number of executives naming low-code/no-code development platforms as their most important automation investment has nearly tripled. According to KPMG's "Low Code: The Unifying Fabric of the Digital Enterprise", 100% of respondents who implemented a low-code development platform received a return on that investment.
No-code and low-code platforms can help an organization improve productivity, reduce costs, and increase employee and customer satisfaction. Here's what you need to know.
Learn more about low-code automation and the other forces shaping the future of work.
What is no-code?
No-code development platforms offer easy-to-use visual tools that let non-technical workers — citizen developers — with no coding experience create applications or automate workflows while complying with IT security standards and policies.
What is low-code?
Low-code tools are designed to help experienced coders build or integrate apps quickly by minimizing hand-coding.
No-code vs. low-code platform
No-code software does not require any programming experience from users. On the other hand, to leverage low-code tools, users need technical knowledge, so it's necessary to be a professional developer.
No-code vs. low-code – how do they work?
No-code platforms use a visual development environment, usually with easy drag-and-drop functionality. These tools help citizen developers design and assemble applications or workflows without requiring them to understand how things work "under the hood." With a no-code platform's templates, element libraries, and interface customization, users can automate tasks or workflows, build apps, integrate systems and automate business process management (BPM) systems.
With low-code platforms, experienced developers can build and test complex apps quickly using visual development tools and automated links to back-end systems, databases, web services, or APIs.
Evolution of no-code & low-code
No-code/low-code platforms evolved from Rapid Application Development (RAD) tools such as Excel, Lotus Notes, and Microsoft Access. Later, WordPress, Squarespace, and Wix facilitated no-code website development. 
Forrester analysts coined the term "low-code" in 2014 and defined it: "Low-code platforms enable rapid delivery of business applications with a minimum of hand-coding and minimal upfront investment in setup, training, and deployment". Forrester analyst Clay Richardson, one of the report's co-authors, said at the time the term stems from research about productivity, workflow, and process-change platforms.
No-code vs. low-code: a comparison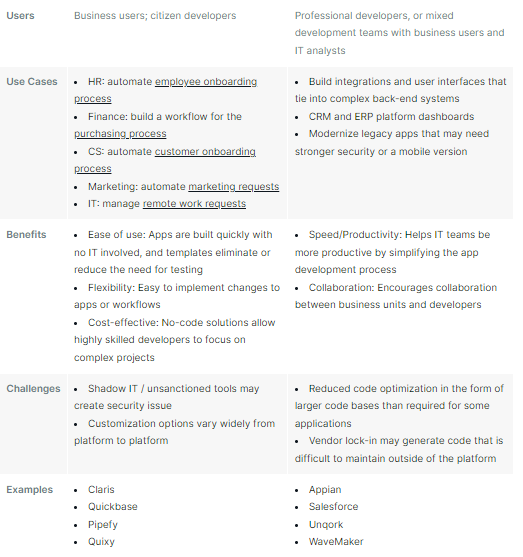 When to use no-code
In general, no-code tools are ideal for the creation and deployment of apps that evolve with frequent updates and/or changes in use cases. Here are a few no-code use cases that demonstrate high value across several mission-critical systems:
HR: An HR department can use no-code software to automate the hiring process and ensure employees, new hires, candidates, and internal customers have a first-class experience.
Finance: Finance professionals can use no-code software to build a workflow for the purchasing/procurement process by using error-proof processes with custom integrations.
Customer success: Customer success teams can use no-code software for onboarding and provide a great customer experience at scale.
IT: IT departments can use no-code software to control IT service desk requests, collect information in a standardized format, and connect a service desk to other legacy systems.
When to use low-code
In general, low-code tools are ideal for complex applications, or applications that are foundational to a business. Here are some low-code use cases that can benefit developers across virtually any industry:
UI design: Low-code solutions can automatically generate interface code for an application UI that can be quickly overhauled as user preferences change.
Platform integration: Use low-code tools to integrate business apps with less (but not zero) coding and custom configuration management.
API generation: Low-code API generators can automatically build APIs based on existing application code. 

NOTE: No-code or low-code development may not be ideal in some situations:
High-performance apps: It's easier to achieve strict performance goals by hand-coding an app. Auto-generated code from a low-code platform may not be optimized for performance.
Accessibility: Low-code platforms may not meet accessibility requirements as well as applications purpose-built to work with screen readers, voice input, and other assistive technologies.

No-code solutions vendors
Forrester's March 2021 overview of low-code development platforms evaluated more than 40 vendors by revenue and primary target users. According to the report, "The need for speed and adaptability in software has never been higher than in the COVID-19 world." 
Forrester segmented the companies' platforms as large, mid-size, or small based on annual revenue, and distinguished the platforms as "low-code for business developers", (aka no-code), or "low-code for professional developers". 
The following vendors are representative of the "low-code for business developers", aka no-code developers.
Betty Blocks is a leading citizen development platform for enterprises, and it was recognized as "visionary" by Gartner in 2020.

Zoho offers Zoho Creator, a platform for accelerating application development.

Quixy provides pre-built solutions for CRM, Project Management, and Incident Management.
Low-code solutions vendors
In the same Forrester report, the following vendors are representative of the low-code for professional developers categories:
Appian helps organizations build apps and workflows rapidly with a low-code automation platform. Key features include case management, three-step application development, and app integration. 

Salesforce is a world leader in CRM technology; Salesforce offers both no-code and low-code development capabilities.

WaveMaker is a powerful low code platform that accelerates app development and IT modernization efforts.

The future of low-code/no-code app development
Gartner estimates the global no-code/low-code development market will be worth $13.8 billion by the end of 2021, an increase of 22.6% from 2020. 
KPMG called low-code platforms "the unifying fabric" of today's digital-first, digital-now environment—and suggested they may be "the key to accelerating enterprise modernization, agility, and efficiency". Many industry pros agreed: 43% of executives surveyed expect to increase spending for process automation in the next 12 months.
Forrester weighed in: "Low-code platforms have been proven in even the most mission-critical use cases and will be required alongside traditional development to support this new normal".
Get started with Pipefy no-code BPM software
Pipefy is a modern, intuitive, no-code BPM solution that provides everything a business needs to implement effective, cost-efficient business process management. It empowers all stakeholders to automate routine processes using a no-code approach. And with its robust data analytics capabilities, Pipefy helps organizations improve the processes that drive all types of business units — from HR and Finance, to Sales, Marketing, and beyond.
Pipefy's capabilities include:
1 - Easy-to-set automation rules based on triggers and actions
2 - Plug-and-play workflow templates
3 - Customization of each step's actions and required information
4 - User-friendly interface
5 - Native and custom integrations
6 - Drag and drop form builder to collect intake data